Quilt a Well-Used Remnant Of the Early Years of Gospel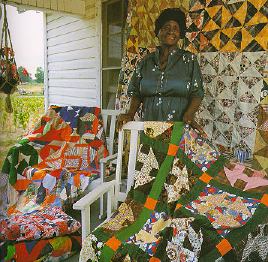 Old photos, concert posters, record covers, sheet music-those are thingsyou'd expect at a museum exhibit on gospel music.
But there is something unexpected, too, at an ongoing retrospective of "good news music" at the Billy Graham Museum in Wheaton: A quilt.
Made from pieces of discarded clothes and cotton seed sacks, the quilt is the largest piece in the exhibit "The Gospel Sound, 1940s-1960s."
The blanket, made in 1947 by Flora Stokes, served as a cover for a parade of traveling black singers who sought shelter at Stokes' home in Orangeburg. S.C. Barred from whites-only hotels, they sought a break from sleeping in their usual refuge - their cars.
Lodging in the home, known informally as "Stokes Hotel," sometimes meant the only thing between the singers and the floor was the quilt itself.
It was a tough life for gospel singers but also, as the exhibit - portrays it, a happy life. It was a period when, as the display's subtitle puts it, "Good News Music was Golden."
Examining the quilt, one reads the accompanying passage on life at the Stokes Hotel.
The Chicago Sun Times Newspaper
Top of Page
Books on Quilts: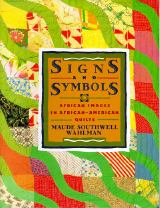 Signs and Symbols: African Images in African-American Quilts
by Maude Sothwell Wahlman
Maude Sothwell Wahlman's published research on African and African-American art includes six academic books, eight exhibition catalogs, and thirty articles since 1972. This is her first popular book. She has shared her work with popular audiences in more than sixty invited lectures around the United States, and is a consultant to Hollywood and television films.
To order this item complete and email the form on the
Main Order Page

Top of Page
A Communion of the Spirits:
African-American Quilters, Preservers, and Their Stories
by Roland L. Freeman
A Communion of the Spirits represents the first national survey of African-American quiltmakers. It is also a personal record of how Roland L. Freeman's life has intertwined with the world of quiltmaking for almost sixty years--"as an African-American male; as a child who was deeply influenced by the cultural traditions and magical powers of quilts; and, for more than three decades, as a photographer and folklorist."
Shows and Exhibits of "The Gospel Sound" Display and Quilts
Location
City
Date
Quilts
Matheson Historical Center
Gainesville, FL
Oct-Dec 1994
2 quilts
Santa Fe Community College - President's Area
Gainesville, FL
Jan-Feb 1995
1 quilt
Santa Fe Community College - The Starke Campus
Starke, FL
March 1995
1 quilt
1st United Methodist Church
Gainesville, FL
April 1995
1 quilt
Fort White Middle School
Fort White, FL
May 1995
1 quilt
The Rock Church School
Gainesville, FL
May 1995
1 quilt
Florida Folklife Festival
White Springs, FL
May 14 - June 1995
1 quilt
Alachua County Fair
Gainesville, FL
Oct 1995
1 quilt
The Billy Graham Archives and Museum
Wheaton, Ill
Dec 1995 - March 1996
1 quilt
Millhopper Branch of the Alachua County Public Library
Gainesville, FL
April 1996
1 quilt
The United Church of Hyde Park
Chicago, Ill
April 1996
1 week
1 quilt
Newberry Middle School
Newberry, FL
May 1996
1 quilt
Downtown Branch of the Alachua County Public Library
Gainesville, FL
June 1996
1 quilt
Micanopy Substance Abuse Center and Senior Citizens Group
Micanopy, FL
July - August 1996
2 quilts
Downtown Branch of the Miami Public Library
Miami, FL
Jan-March, 1997
1 quilt
African American Museum
Dallas, TX
May-July 1997
5 quilts made in the early 1900's
Assemblies of God College
Lakeland, FL
Oct 1997-Jan 1998
2 quilts
United Church of Hyde Park
Chicago, ILL
April 1998
3 quilts 6 Dolls
Back to Africa: 1880-1920 Marcus Garvey Movement
Gainesville, Daytona Beach, Tallahassee, Jacksonville
June 1998 December 2000
1 quilt made 1917
Rosewood North Central Florida Traveling Exhibit
St.Petersburg,
Daytona Beach
Tallahassee, Gainesville
Jan. 1999-
Feb. 2000
Several 1920 African American Dolls

Three prisons also hosted displays in 1996,1997, and 1998
Top of Page