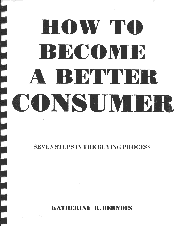 How to Become a Better Consumer:
Seven Steps in the Buying Process
by Katherine R. Berndes
How to Become a Better Consumer is unusually rich in creative and interesting activities that can help to develop more intelligent consumer habits and practices.Although it should be particularly useful in secondary school consumer education programs, it could be used by people in any age group.The author has not only provided a wealth of important information for the consumer, but has filled her book with challenging questions and exercises that should develop skills in research and in analytical thinking.
George G. Damson, Ph.D., Emeritus Professor of Economics,
Empire State College(State University of New York)


To order this book please complete and email out form below
use the Order Form I.

Top of Page
---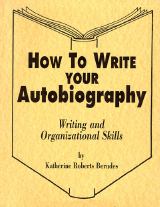 How to Write Your Autobiography
Writing and Organizational Skills
by Katherine Roberts Berndes
Finally there is a comprehensive guide to writing your autobiography, serving as both a reference text and as a general workbook. This author has excellent organizational skills. She uses easy to understand terminology and examples, with a particular focus on your personal needs.
An easy-to-follow and creatively arranged text. It is particularly "reader friendly," so that the lay person will find it a very useful aid in writing an autobiography. Adult educators should find this book especially appropriate for their writing programs.
Dr. B. Ray Holland, Dean Open University, Florida Atlantic University
Methodical, inventive approach to the perennial question posed by students of all ages. The materials offered here can help students and teachers alike both in and out of the classroom.
Clare N. Lowell, Curriculum Associate, Language Arts K-12, The East Williston School District Old Westbury, New York

An ideal tool. This source is appropriate for adult education classes in community schools. This is a easy-to-follow source that can be used independently or with only occasional guidance.
William Kendrick Hall Assistant Director Adult and Community Education Palm Beach County School District, Florida


To order this book please complete and email out form below
or use the Order Form I.



Top of Page
---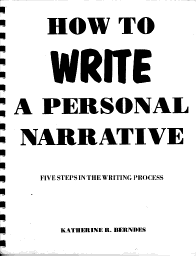 How to Write a Personal Narrative
by Katherine R. Berndes
How to Write a Personal Narrative
provides creative, useful instruction in writing a personal narrative in a style as suitable for Junior High students as it is for adults.This workbook is based on a sound application of current research on the writing process.It provides practice in developing writing skills that can carry over into a variety of other writing tasks.
The author has written a workbook that can be used independently by a student, or by a group with teacher direction.Especially valuable to writers is the reference material included which makes this a teaching tool for beginners or a review for more capable writers of any age.
Dr. Gloria Kuchinskas
Language Arts Consultant
Adjunct, NOVA University

To order this item complete and email the form on the
Order Form I.
Top of Page
---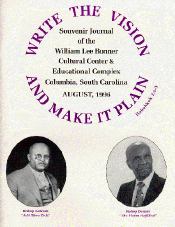 Write the Vision and Make it Plain


by
Alexander Stewart
and
Shilene Stewart
Souvenir Journal of the William Lee Bonner Cultural Center & Educational Complex
Columbia, South Carolina
August 1996&nbsp&nbsp
Interested?? Click on the
order form
.
DISPLAYS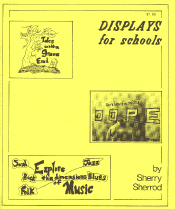 Displays For Schools:
An Avenue of Communication
by
Sherry A. Sherrod
Reviews:
"Sherry A. Sherrod helps out teachers and library media specialists by giving them simplified procedures for producing easy display ideas. In three parts, the book covers planning displays, recognizing commemorative dates and weeks, and ideas for perking up media center and classroom bulletin boards. The suggested monthly topical displays are illustrated with from two to four drawings and/or photographs. A list of important dates and tips for effective display production and layouts is included."
-School Library Journal/
Sherry Sherrod has some good display ideas that are easily constructed with hints for planning, and examples of various possible subjects. Although designed for schools, children's librarians might find this helpful as well.
-Tips from Clip/July/A Canadian Library Publication
On display - Scenario: It's the first of the month, you need a bright new display, and you feel singularly uncreative. Solution: Pick up DISPLAYS FOR SCHOOLS, a 32p. booklet with photos, thematic ideas, and practical tips on putting together something bold.
-Wilson Library Bulletin

To order these items, select a Form:
Order Form I

Top of Page
Juvenile Literature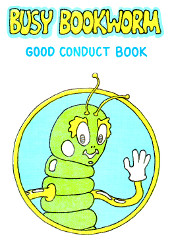 Busy Bookworm:
Good Conduct Book
by
Herbert C DuPree
Hi! I'm Busy Bookworm!
We're going to learn how
good conduct builds your good character!

To order this item complete and email the form on the Order Form I.
Top of Page
---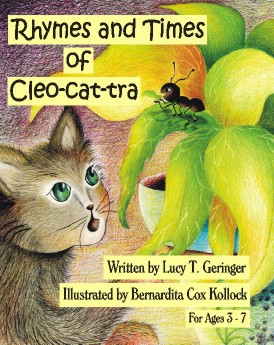 Rhymes and Times of Cleo-cat-tra

by
Lucy T. Geringer
Ill. by
Bernardita Cox Kollock
## Now Available
Children find that rhymes are fun. "Rhymes and Times of Cleo-cat-tra" is a beautifully illustrated rhyming book with the cat Cleo-cat-tra as the central figure. Ideal for children just learning to read, it is an "I can read" book for ages 3-7. The purpose of the book is to help children enjoy language and to stimulate a young child's language development.

To order these items, select a Form:
Order Form I

Top of Page
Autism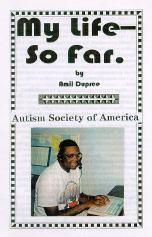 My Life So Far
by Amil D. DuPree
Amil has the title of "editorial assistant" for the
CIL News
.It's not honorary -- he earned it.In the last several months the editor has worked with him, Amil has proven himself to be a wonderful volunteer and human being.
He has not only intelligence, but wisdom as well.He not only likes people, he cares about them.He not only has warmth, he radiates it.
Amil sops up information like a sponge, having learned sophisticated word processing and publishing programs in almost no time at all.
His dedication, intelligence, and unfailing good humor make him the kind of person staff and other volunteers love to work with -- and grateful to know.
Amil spoke at the "Autism Society of America" National Conference in Orlando, July 10th, 1997, and participated on a panel of young adults with autism.
Sam Marie Engle
Associate Director
Center for Independent Living

For more information on Autism
click here
.
To order this item complete and email the form on the
Order Form I
.
Top of Page
Gospel Music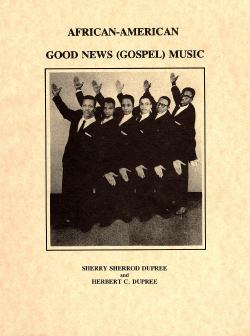 African American Good News (Gospel) Music
by
Sherry Sherrod DuPree
and
Herbert C. DuPree
Albums
Pictures
Biographical Sketches
Research Strategies
Comprehensive Index
Over 85 Pictures Of Musicians
Music Facts At Your Fingertips
A Brief Overview of African America Gospel Music
LIBRARY SKILLS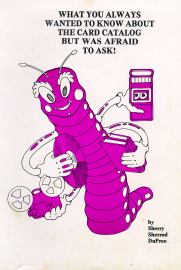 What You Always Wanted to Know About The Card Catalog but Were Afraid to Ask!
by
Sherry Sherrod DuPree
Outstanding Features of this New, Easy-To-Use Book:
Provides a pre-test
Easy to follow instructions and illustrations
Content is suitable for elementary, secondary and college level students
Easy to remove perforated pages
Modest Cost
Excellent sources for all catalog users
Fun and instructive
Designed for class or individualized instruction
48 pages
Based on the Dewey Decimal System
Covers fiction, non-fiction and audio-visual material
A variety of activities and excercies to teach students library skills are presented in "What You Always Wanted to Know About The Card Catalog but Were Afraid to Ask," by Sherry Sherrod DuPree, educational media and library science specialist.
The booklet with its cartoon illustrations and tear-out pages, teaches Dewey Decimal concepts. Geared toward 4th through 12th grade students, it discusses topics such as call numbers and parts of a catalog card.
The 48-page booklet contains questions in each section and ends in a post test.
American Libraries


To order these items, select a Form:
Order Form I

Top of Page
HEALTH EDUCATION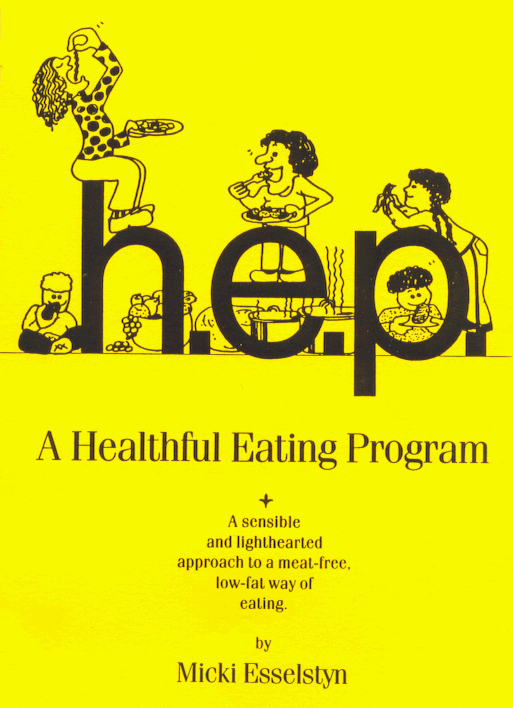 A Helpful Eating Program:
A sensible and lighthearted approach to a meat-free low-fat way of eating
by
Micki Esselstyn
Several friends of mine who know that I don't eat meat or chicken asked me to help them learn how to think about, shop for and cook non-meat, low-fat meals. These friends also know that the meal I fix are tasty and that for years my husband and children have enjoyed the vegetarian fare I prepare.
Foods, as a source of great pleasure in life, should be fun to think about as well as to eat. This booklet is a light hearted approach to a healthful way of cooking and eating.
Enjoy!!
To order this item complete and email the form on the Order Form I.
---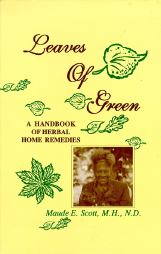 Leaves of Green:
A Handbook of Herbal Remedies
by
Maude E. Scott
Why this book???
Have you ever wondered how earlier civilizations survived without vitamin supplements, antacids, laxatives, pain killers, and a host of other over-the-counter medications? Well, first of all, they didn't have many of the illnesses and chronic diseases we have today. But when they did get sick, not having trained professionals, they used
herbal remedies
to treat everything from fevers to frostbite, from toothaches to tapeworms. It may surprise you to know that
MANY OF THESE TREATMENTS ARE STILL RELEVANT TODAY.
With the rising cost of health care (I sometimes refer to it as sick care), and the growing interest in
alternative forms of treatment
,
LEAVES OF GREEN
provides a link to the past, help for the present, and prepares you for a healthier and happier future.
YES! ... LEAVES OF GREEN... "Don't go home without it."
To order this item complete and email the form on the Order Form I.

Top of Page
HISTORY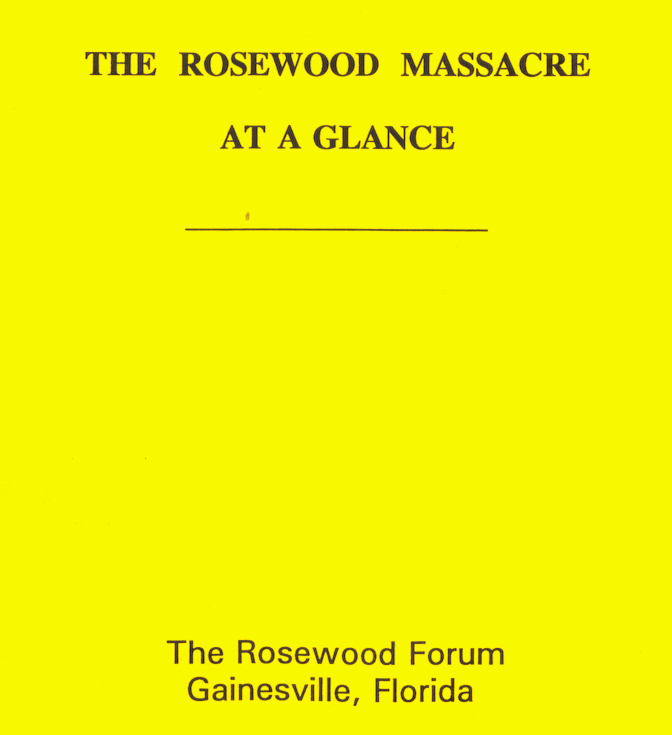 The Rosewood Massacre
At A Glance

by
The Rosewood Forum
The scope of this work is both factual and inclusive based on reports by newpapers and interviews of citizens. Second, this book addressesAfrican American people - those who were in the massacre and those who are presently preserving this story in the form of various documentation (radio, television, motion picture, songs, poems, etc.).
Most importantly this book relates the Rosewood Massacre to the Florida Legal System of Justice in 1923. In addition to the Florida 1994 landmark decision to pay restitution to the seven Rosewood survivors, this research has yielded some truly special results, including the Newberry, lynching and other unpublished massacres.

To order these items, select a Form:

by US Mail
Order Form I

We accept American Express, Check or Money Orders.

EMail Message Form

Top of Page